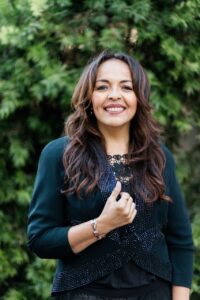 Jessica Z Maldonado is an ordained Apostle, founder of Freedom To The Nations Ministries, dynamic preacher, and a prolific writer. Jessica is the radio host of "Breaking Free."Through her bible based and life-experience testimonies, she has helped thousands break free of spiritual and emotional bondage.
For over 25 years, Jessica has traveled to various countries in South America, Africa, Asia, Europe, and North America, preaching the gospel to the lost and equipping leaders. Her passion is to empower, encourage and transform lives by ushering in the tangible presence of the Holy Spirit through the demonstration of God's power. Jessica operates in breakthrough anointing for miracles, healing, deliverance, and the prophetic. She travels the world speaking at leaders' conferences and miracle crusades.
She received her theological training at King's College and Seminary in Van Nuys, California. She is a Registered Nurse with a Baccalaureate degree of Science in Nursing specializing in emergency room care and surgical services. After 20+ years of simultaneously serving through Freedom To The Nations and her nursing profession, Jessica retired from nursing to pursue the call of God for her life.
Jessica was born in Lima, Peru, and moved to the United States at the age of twelve, where she committed her life to Christ at the age of sixteen. She currently resides in Los Angeles, California, and travels frequently to teach and encourage the Body of Christ.
To Invite Jessica to speak at your church or event:

Email: jessica@freedomtothenations.org

Thank you!